Air France Resumes Flights To Kenya After 18 Year Hiatus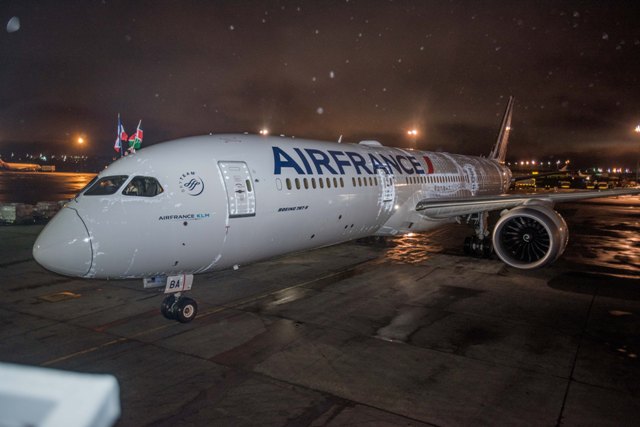 Image: Capital FM
It was to great applause that Air France  resumed its flights to Nairobi with the inaugural flight using a Boeing 787-900 landing in Nairobi on March 26, 2018 after the airliner being away from Kenya for 18 years.  The resumption of flights will see Air France join an expanded joint-venture partnership between KLM and Kenya Airways that was established back in 1995.
Announcing this latest move, Air France's  Senior Vice President Frank Legre said the new flights will three times a week using a Boing 787 and AF814 will leave Paris-Charles de Gaulle at 20:50 on Wednesdays, Saturdays, and Sundays, arriving in Nairobi at 6:00, the next day and AF815 will leave Nairobi at 08:20 on Mondays, Thursdays, and Sundays and arrive at Paris-Charles de Gaulle at 15:50. This new service he said is expected to help customers benefit from a streamlined travel experience between Europe and East Africa through the three hubs and improved connections to 26 beyond Nairobi's destinations.
Through the patnership between KLM and Kenya Airways, the expanded code-share will see the airlines have a combined three hubs (Amsterdam, Paris, Nairobi) thus enabling passengers to have seamless connections through booking on any of the three Air France flights (Paris-Nairobi), 14 Kenya Airways flights (7 Amsterdam-Nairobi and 7 Paris-Nairobi) and 7 KLM flights (Amsterdam-Nairobi)
This announcement is a welcome boost to Kenya's tourism sector that is hoping to grow the number of visitors coming from France and adjoining countries.